Story from the Stroud News and Journal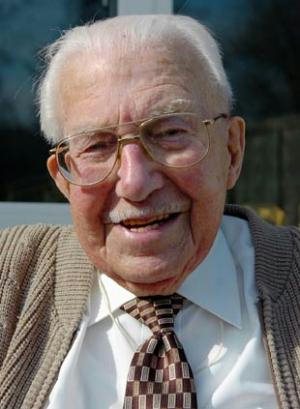 A LIFETIME on four wheels proved a favourable occupation for former bus conductor Jack Ireland, who celebrates his 100th birthday on Thursday, March 31.
There is not a route in the Five Valleys he did not ride during his many years on the buses before he later travelled the country as a coach driver.
Born one of two brothers and three sisters in Painswick in 1911 – the same year racegoers first flocked to the Cheltenham Festival – Mr Ireland went to school in the village before working a short while alongside his father Walter in a hairpin factory.
He met his first wife Alice on a bus in Minchinhampton and the pair married there on April 22, 1935.
Alice worked as a chambermaid at the Bear of Rodborough Hotel where she would signal to Jack's passing buses by shaking her feather duster out the window.
The couple had two children – John, a retired policeman and Jean, a retired social care worker, who regularly visits her father at his home in Uplands, Stroud.
Following Alice's death Mr Ireland, who has four grandchildren and five great grandchildren, went on to marry his second wife Doreen in 1982, who passed away six years ago.
Outside of work, Mr Ireland was a keen member of the charitable fellowship Toc H in Stroud, where he became friendly with Thomas the Tank Engine creator the Rev Wilbert Awdry.
He has also been a loyal worshipper at Stroud Congregational Church for decades.
Asked what the secret to his longevity was, he answered 'moderation in everything'.
"I never overindulged in smoking or drinking," he said.
"I get aches and pains at times but mostly I am pretty healthy and fit."
Well-wishers are welcome to visit Mr Ireland throughout the day at his home tomorrow before he is whisked off to a family party at Jean's home in Dursley on Saturday.
Couple buy old bus where love blossomed in 1970s
A HAPPY couple who found love in the bus lane have been reunited with the bus where it all began.
Sweethearts David and Maureen Hanson – a retired driver and conductor – managed to step back in time thanks to son Mark who bought the 1949 Leyland PD bus from internet auction site eBay.
Remarkably, Maureen was pregnant with Mark when they were working on the bus and other similar ones in the 1970s for the old Burnley, Colne and Nelson Joint Transport Company.
Reminiscing from their home in Chiltern Avenue, David (67) said: "I started as a driver in 1964 and Maureen started in 1969. We would chat at tea breaks and then on the bus.
"In fact, we had our first dance at a bus safety awards evening. I couldn't believe it when Mark rang to say he'd found one of the old Leylands.
"When he said it was number 63 I knew I'd driven it. They were a lot different to the new buses and I remember having to stand up to turn it.
"They were great vehicles and it was a super job. I retired after 40 years without an accident."
Maureen (59) admitted to "many a happy hour on the bus with David" and said the bus brought back some fond memories.
"I suppose we've got to thank that bus and others like it for bringing us together. It obviously was a lucky place to meet – next year will be our 40th wedding anniversary." she added.
Mark (37) who paid £12,000 for the old bus, which still has the original maroon and cream colours and crests from the three towns, is now dreaming of restoring it to its former glory.
The owner of Hanson Civil Engineering in Burnley, said: "I love old buses and always wanted one of these Leyland PDs so I couldn't believe it when I spotted it on eBay.
"Other bidders wanted to turn the bus into a bar, live in it or even make it into a nursery, but I want to preserve it and bring it back to its former glory."
Indeed, Mark and David were so keen to see the bus – and drive it – they booked a flight to Devon to collect it before driving it, top speed 43mph, all the way back to Burnley.
"It took us around seven hours, stopping and taking turns. We got some funny looks on the way back and a few humorous comments about looking like Blakey from 'On the Buses' but it was worth it.
"I'm going to renovate it and want to find any old painters who used to work for the bus company." Mark then hopes to loan his pride and joy to Leyland Bus Museum as well as display it at vintage shows.
Article from the BURNLEY EXPRESS
Back on the buses for lottery winner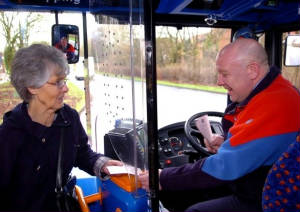 Published on Fri Feb 11 15:44:29 GMT 2011 FROM LANACSHIRE EVENING POST

He could drive a Bentley, a Porsche, or even a Ferrari, but for one Lancashire millionaire, he feels more at home behind the wheel of a bus.

Down-to-earth Kevin Halstead, who scooped more than £2.3m on the Lotto last year, returned to the buses for the first time since his big win yesterday.
The 47-year-old plans to return to his job on the 152 Chorley route later this year on a casual basis because he misses his pals.
He said: "I do miss working on the buses. When you've been doing something for 17 years and then you suddenly stop it does seem strange.
"It's the banter me and my mates had that I miss more than anything. I will come back in a couple of months on a casual basis, if and when I want."
Kevin was handing out lucky lottery tickets to passengers as a new game was launched by the National Lottery but admits he won't be splashing his own cash.
He said: "My life has changed but I haven't changed a bit. I do drive a Range Rover now but I still have my old Renault Laguna."
Lucky Kevin was hoping his winning ways would rub off on fellow passengers as he handed out lucky dip tickets for the new Lotto Plus Five, which gives players five chances of winning £250,000 throughout the week.
The dad-of-one still plays his winning numbers on the lottery every week, and his good luck is even rubbing off on his mum.
He said: "About a month ago my mum was checking her numbers and ended up matching five. If she had got one more, she would have won £10m, and then she could have lent me some. She ended up winning just over £2,500."
He also carried on his winning ways on a cruise where he played his lucky numbers of the roulette.
He said: "I ended up winning £2,000. The woman sitting next to me said 'you seem really lucky, you should play the lottery'. She didn't believe I had until I showed her a picture of me on my phone with my big cheque."
Andy Stuart, who worked with Kevin, said: "Kevin is just a quiet guy who gets on with his job. He's still as down to earth now as he was before. But he did come in one day looking for some screws to fix his wheelbarrow. You'd think he could go and buy a new one now."

If you come across any bus stories that you think would be of interest for here please drop me an email with info, thanks