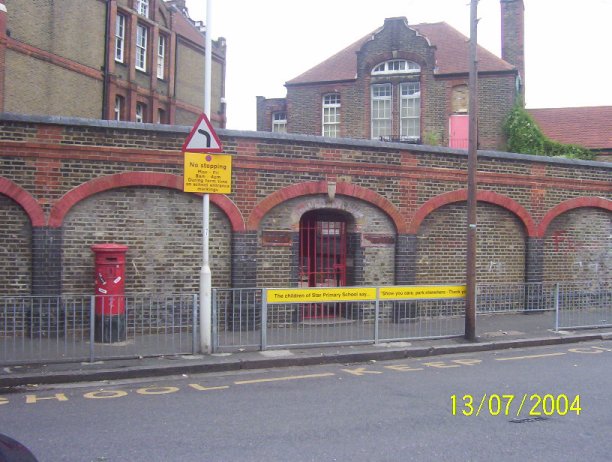 Reg was born in London's East End, he attended Star Lane Primary School in Newham (right). His dad worked in a rubber factory in Silvertown. Reg had 2 sisters.Leaving school at 14 he worked as a messenger boy and a page boy at Regents Park Hotel.He also started his career as a piano player after taking lessons as a child.
His first paid engagement was at Plumstead Radical Club in Woolwich for which he was paid eight shillings and sixpence
Playing in working mens clubs at the age of 14, and later singing with Big Bands of the time. Also appearing in ABC Cinemas
and Pubs he and his mum decided that a showbiz was the career for him and gave up his day jobs
His career altered slightly with the onset of war with him joining the Royal Electrical Engineers during the war, he continued performing in Stars in Battledress and did a tour of the Far East.
He then went on to become an all round entertain working his way around the Music Halls. Also doing Summer Shows, Benny Hill
would play his straight man.(yes that Benny Hill)

In 1961 he got the role as a foreman in a TV series called The Rag Trade.
After that followed another comedy role in Begger My Neighbour.
This also starred Pat Coombs, June Whitfield and Peter Jones.
Pat Coombs was to play Reg Varneys wife and of course would Pat would later appear in the ON THE BUSES movie
The series ran from March 1967 to March 1968 (24 episodes of 30 minute duration) and a short special was shown as part of Christmas Night With The Stars on 25th December 1967. Then another sitcom was penned by Ronald Wolfe and Ronald Chessney who had wrote The Rag Trade. The series was called
On The Buses.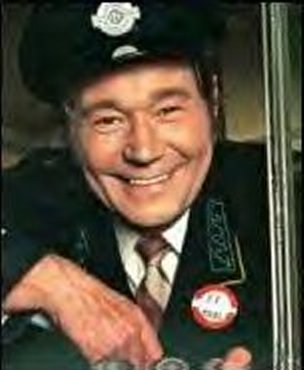 It proved a great success and Reg started to take on more film roles Go For A Take. Then
'The Best Pair of Legs In The Business'.The Best Pair of Legs in the Business was also released as The Best Pair of Legs in Town. The story is set at a British holiday caravan park. Reg plays the resident compere and drag artist. It is about how his life revolves around the need to perform even though it is a dreary caravan park. An entertainer at the end of his career but who tries to kid himself he can return to the big time. It is about having hope when there is no hope. A sad comedy that sees Reg Varney giving a brilliant performance. (See it if you can) followed but was not a great success. He played a Billingsgate Fish Porter

He also had six of his own hour long spectaculars "The Other Reg Varney."


Reg at Coolangatta Airport
Austrailia November1988
He had his own cabaret act and toured places like Australia, New Zealand and Canada.

In 1988 On The Buses went onto the stage and again Reg went over to Australia playing Stan.
A few years later Reg was found to have health problems retired and took up residence in a small village near Dartmouth. He also owned a villa in Malta and spent his time between the two places.
Some clips of Reg Varney in ON THE BUSES and other various roles, appearances.
CLICK HERE FOR REG'S career details
Sadly Reg died following a short illness in a
nursing home in Budleigh Salterton, Devon.
However his legacy lives on all around the world
after a long career bringing enjoyment to millions
Messages of Condolences left by fans