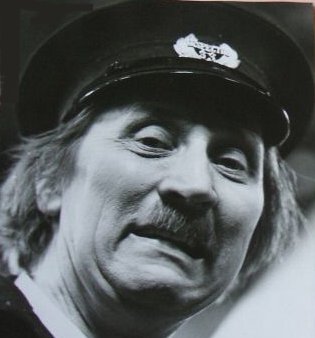 Stephen Lewis (Blakey)
Born London 17 December 1926.
Died peacefully aged 88 at 1.50am on
Wednesday August 12 2015 in a Cambridge nursing home
Stephen Lewis was born in London, . He immortalised the part of the petty-minded, Bus Inspector known as 'Blakey'
CAREER DETAILS


1961 premier Sparrers Can't Sing" Wyndham's Theatre for the West-End Premiere of this new musical written by Stephen Lewis. Stephen playing the part of "Wilkie"
Made into a movie and starred Stephen Lewis
1968 Negatives
Staircase 1969 Starring Richard Buron and Rex Harrision.
On the Buses (1969),
The Magnificent Seven Deadly Sins1971
On the Buses 1971,
Mutiny On the Buses 1972
Last of the Summer Wine 1973,
Holiday on the Buses 1973
"Don't Drink the Water 1974,
Adventures of a Taxi Driver 1976
The Last Remake of Beau Geste 1977,
Adventures of a Plumber's Mate 1978,
Jack & The Beanstalk Xmas Panto as Dame Durden 1982/83
1985. York Theatre Royal It featured: Nyree Dawn Porter, Kate O'Mara, David Janson, Mark Wynter, Stephen Lewis Peter Byrne Andy Crwford P J Davidson, Hazel Bainbridge, Francesca Longrigg, Brian McDermott, Howard David and Tom Griffin.
The Krays 1990,
The All New Alexei Sayle Show 1994,The Great Kandinsky 1995,
Oh, Doctor Beeching 1996, 3 SERIES (played Harry Lambert, the signalman)
The Generation Game 1998/99,
Revolver 2003
Last of The Summer Wine 2005-2009
"On The Buses was a great show," he says. "We had such a laugh doing it, and it was a real family atmosphere on set." The show, which ran from 1970-5 also spawned three films - the first one, On The Buses, was the biggest grossing British film of 1971. A prestigious blue plaque has been placed at Elstree Studios, Herfordshire, to commemorate the movies made there. The 1970s were a time of classic sitcom - the way they should be. And that isn't the voice of a drunken nostalgic.
How many modern day writers could take a situation so few are familiar to, like working as a bus driver or being in prison (Porridge) and still make a wholly believable, successful, accessible show? Nowadays it's all flatsharing sex people.
"I don't think modern comedy is up to much," agrees Lewis. "I'm not going to name names, but some of them go too far. We didn't need to spell out the rude jokes to make them funny. It was a family show. Some programmes now are on too late, and I would feel uncomfortable watching them with children around." Men Behaving Badly springs to mind. "Like I said, I'm not naming names, but I don't have much time for that.
"We were smutty, for sure but if ever Butler was getting too saucy I'd come along and say 'huh-huh-huh' and stop it before it went too far." And even shows like One Foot In The Grave, which was well written, were on too late at night. Prime sitcom slots should be 7.30pm - and what do you have at the moment? Docusoaps and factual shows. It's very sad," says Lewis. Stan Butler (Reg Varney) and his best pal Jack (Bon Grant) would regularly be smutting up the "new clippy bird", but failing more often than scoring. "See?" says Lewis.
"They weren't sex maniacs. They aspired to be, but Stan still lived with his mother. That was the joke."
Stephen has recently taken up in Last Of The Summer Wine, playing Smiler - essentially an Inspector Blakey without his bus. "I love it," he says. "I feel at home." Buses co-star Anna Karen, who played Olive, recently turned up in EastEnders as Peggy Mitchell's sister. Like Anna, Stephen is keen to prove there's more life in the old dog yet. "I know I'm going to be limited in the roles I get now, but I don't plan to stop acting yet," he says.
"I love it too much. I love the sense of belonging to a family, which is all On The Buses was. It wasn't work. It was too much fun to be work."
Thanks to Steve at Bubblegun

SUMMER WINE INTERVIEWON LOCATION WITH STEPHEN LEWIS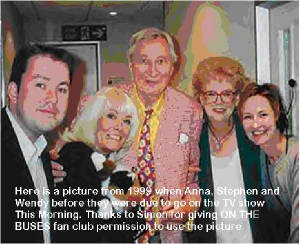 Click on the links below to see pictures of when Stephen Lewis dressed as Blakey joined us at Ponitns to celebrate the making of the movie HOLIDAY ON THE BUSES
Holiday ON THE BUSES Plaque Event
Julien Linsel remembers seeing Stephen Lews/Blakey

The Labour Party in Hartlepool in the late 80's and early 90's hired Stephen Lewis and had him stand on the open deck double decker bus and shout " get that bus out and vote Labour". It was quite a treat when he passed by while I and my father were walking our Labrador and as the bus slowed down he shouted " you two layabouts, stop loitering and get that bus out". I remember i and my dad bursting out laughing as we both loved On The Buses. Stephen smiled back and said " enjoy your day" which made the day for both of us. Happy memories indeed. Ding ding.

TRIVIA -
An article from Leeds Live - On December 7, 1972, actor Stephen Lewis pulled the first pint at The Gaiety super-pub.
Lewis was a household name for his role as "Blakey" in On the Buses, which in 1972, was one of Britain's most popular TV comedies. He was a suitably big name for the big opening of what was hoped to be one of a new generation of Leeds super pubs