1938 pianist at the Windmill Theatre London

1947 Bolton's Theatre Club An intimate revue which starred

Reg Varney

, Donald Reed, Billy Milton and Daphne Anderson

1949 , The Marquis Trio, Lance Fairfax, Joyce Clifford, Greta Grayson, Jack Desmonde.

1950 Reg Varney Ventriloquist, James Durban, Three O'Doyle Brothers, Eileen Bishop, Benny Hill, Maureen Riscoe.

1950 'Red Riding Hood.'pantomime Golders Green Hippodrome The pantomine stared Reg Varney, Leo Franklyn, Rosalind Melville, Doreen Lavender and an early appearance of Morecambe & Wise as Jimmy Green & Johnny Stout

1951 "Sky High",Empire Theatre, Nottingham Reg Varney, Roy Jeffries, and The Heavenly Nudes

1953 KINGS THEATRE EDINBURGH "HALF PAST EIGHT"

1954 14th March at Royal Albert Hall in aid of the Centenary Year Appeal of the Royal Hospital and Home for Incurables in Putney.The show featured comperes Margaret Lockwood, McDonald Hobley and Robert Moreton introducing Dick Henderson jnr, Bruce Trent, Reg Varney, Beryl Reid, Freddie Phillips, Anne Shelton, Bill Maynard, Lizbeth Webb and Edmund Hockridge, Max Jaffa, Jack Byfield, Reginald Kilbey, Leo Fuld, Ivor Moreton, Dave Kaye and Freddie Bamberger.Music was by Billy Ternent and his Orchestra'

1956 "THIS IS THE SHOW" Theatre Royal, Portsmouth David Nixon, Reg Varney, Aileen Cochrane

1958 Blackpool SHOWTIME The North Pier Pavilion, STARRING David Nixon, Edmond Hockridge, Joan Regan, Reg Varney, Billy Dainty & the King Brothers.
1958 Bournemouth Pavilion Pantomime Puss in Boots.
Cast list: John McHugh, Barbour Brothers, Jean Barbour, Stuart Pearce,Brenda Orton, Anna Peters, Reg Varney, Ann Gabrielle
Tommy Cooper, Ann Briley


1960 Pantomine A Wish for Jamie
Opened at the Alhambra on 9th December, Principal Boy Reg Varney as Percy the English farm-hand.
CASTING: Clement Ashby, Mary Benning, Rikki Fulton, Russell Hunter, Fay Lenore, Doris McClure, Kenneth McKellar, Paul & Peta Page, Ethel Scott, Reg Varney, The George Mitchell Singers, The Geraldo Orchestra and dancers of Western Theatre Ballet

1961 The Rag Trade (Reg) 1961 tv seriesUK, BBC,
Sitcom, B/W, Starring: Peter Jones, Desmond Walter-Ellis, June Whitfield
Sunday November 1961 ARMY BENEVOLENT FUND ROYAL PERFORMANCE PROGRAMME all star show at Victoria Palace starring Eddie Calvert, Tiller Girls, Harry Secombe, Eric Sykes, Reg Varney, Vera Lynn, Kenneth Connor, John Le Mesurier, Hattie Jacques, Gracie Fields.
1962 "Holiday Show" WINTER GARDENS, BOURNMOUTH, THE HOLIDAY SHOW - THE TOBERT DANCERS, RALPH TOLBERT, BARBARA DAY, JACKIE DALTON, GERI O'GORMAN, PATRICIA SQUIBB, REG VARNEY, TONY FAYNE, THE SOUTHENDERS, MARK WYNTER, BEVERLEY SISTERS

1962 JULY The Winter Gardens, Bournemouth "The Holiday Show". Jimmy Edwards Reg Varney, The Hermannis, Tony Fayne,The Southlanders,Mark Wynter

1963/64 The Pied Piper of Hamelin with Reg Varney, Freddie Sales, Ernest Bale, Joe Church, Terry Fearis, Sandra Michaels

1963 Hippodrome Bristol 13th Septemeber for a season Autumn Spectacular.Cast Includeded Jiimy Edwards, Beryl Reid and Reg Varney.

1963/64, Pied Piper Of Hamelin, Alhambra Theatre

1965 Joey Boy film starring Harry H. Corbett as Joey Boy Thompso,n Stanley Baxter as Benny "The Kid", Lindowski Bill Fraser as Sgt. Dobbs, Percy Herbert Mad George Long, Lance Percival Clarence Doubleday,
Reg Varney Rabbit Malone, John Arnatt Brigadier, Chapman John Harvey Signals Officer' Lloyd Lamble Sir John Averycorn, Moira Lister Lady Thameridgo

1966 The Great St. Trinian's Train Robbery

1966 The Good Old Days BBC1 Sunday 28 November

Cast Ted Ray, Barbara Law, George Chisholm, Eithne Milne, Michael Allport and Company, Ivane and Andre Astor and Les Aguanitos with host Lenoard Sachs

1967 June 27 , he launched the world's first cash dispenser at Barclays' branch in Enfield, north London

1967 Beggar My Neighbour (Harry Butt) tv series. Pat Coombs was to play Reg Varneys Wife and of course would later appear in the ON THE BUSES movieThe series ran from March 1967 to March 1968 and a short special was shown as part of Christmas Night With The Stars on 25th December 1967. 24 episodes of 30 minute duration.

1967 Australian TV Series called The Rovers
Reginald Peck.......Reg Varney
Dawn Tobin.......Dawn Lake
Simon.......Robert Evans
Wilbur.......Ricky Cilona
Tara.......Leonie Williams
Dog.......'Lonsdale'

On the Buses 1969-1973,

1970 20th May THIS IS YOUR LIFE Reg Varney

1970 The Other Reg Varney. ITV (LWT), Standup/sketch, 1970 9 Aug 1970, Sun 8.50pm
Starring: Reg Varney, Peter Jones, Shari Lewis 1 episodes: 60 mins

On the Buses 1971


1972 Go for a Take Film. Reg Varney, with Harry Booth, Sue Lloyd, Dennis Price

Mutiny On the Buses 1972,

Holiday on the Buses 1973,

1975 19th January Share and Share Alike. An 'Odd Couple' comedy featuring two chalk and cheese brothers forced to live together by the terms of their mother's will. (never broadcast)
1975 July Month tour of Newzealand

1975 August Month tour of Austrailia

1979, film with Eric Sykes The Plank (Reg Varney,Window Cleaner).


1980's Reg Varneys cabaret act toured Austrailia Canada and New Zealand. In 1988, On The Buses went onto the stage and again Reg went over to Australia to play Stan.

ON THE BUSES Austrailia stage tour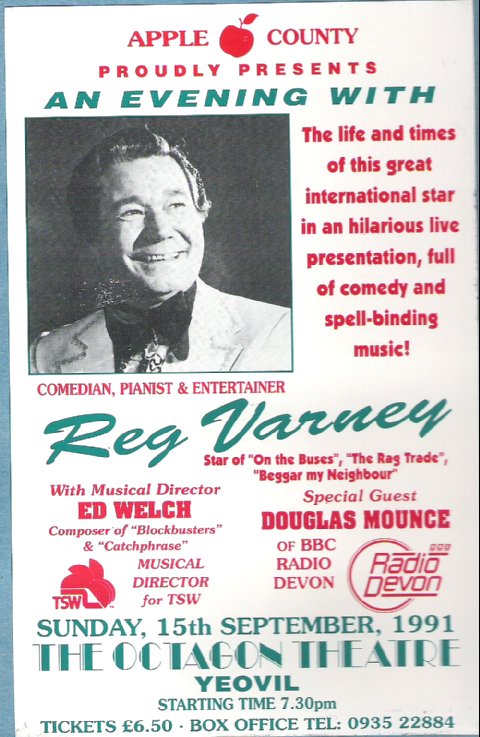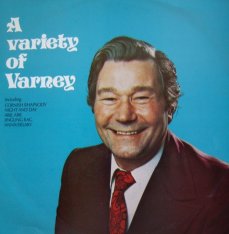 Records


Reg Varney - This Is Reg Varney
Vinyl LP, M-M-, Columbia, SCX 6518


Best Pair Of Legs In The Buisness, Single 45 B SIDE Come on and Tickle my Fancy Columbia 1973 DB 8977

Reg's Party, LP 1973 One Up EMI OU 2029

A Variety of Varney 1974