Cicely Courtneidge: Mum - Series 1
"Dame Cicely Courtneidge DBE (1 April 1893 – 26 April 1980) was an English actress and comedian. Esmerelda Cicely Courtneidge was born in Sydney, Australia. She was the daughter of the Scottish producer Robert Courtneidge and granddaughter of Covent Garden opera singer Cicely Nott. Her mother was also an actress, and her three sisters were actresses, one of whom was Ada Blanche. Her first professional appearance was in her father's production, The Arcadians (1911), and later The Pearl Girl (1913), both at the Shaftesbury Theatre.
She starred in slapstick comedies like Falling For You (1933) and Soldiers of the King (1934), and she performed regularly on stage in the United Kingdom. She also gave performances in Melbourne, Australia in the late 1930s. She made many appearances in film, including in Those Magnificent Men in Their Flying Machines (1965). She also played the role of "Mum" in the first series of the London Weekend Television comedy On the Buses, opposite Reg Varney and Anna Karen. After a long career devoted entirely to comedy roles and revue sketches, she gave a touching dramatic performance in the film The L-Shaped Room as an elderly lesbian, wistfully recalling her career as a music-hall performer.
Courtneidge was featured on a number of cigarette cards: Gallaher #37 - Cicely Courtneidge and Frank Atkinson in Me and Marlborough; Ardath, Film Stage & Radio Stars 1935; W.D & H.O Wills's #88 - Wills Famous Film Stars, 1934/35; and Godfrey Phillips #16 - Stars of British Films Australian Issue (1934).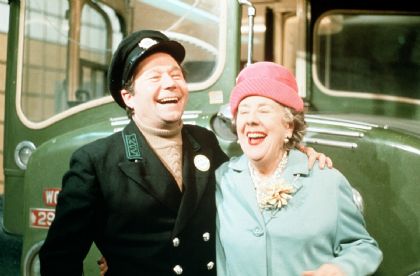 One of her last appearances was in a Royal Gala Performance at the Chichester Festival Theatre in June 1977, celebrating the Queen's Silver Jubilee. The performance was called God Save The Queen! and had an all-star cast, including Ingrid Bergman, Wendy Hiller, Flora Robson, Diana Rigg, Penelope Keith, Sian Phillips, Keith Michell, Alfred Marks and Courtneidge. The performance was attended by Princess Alexandra. She married comedian Jack Hulbert in 1916, and they were married for 62 years, until his death. She was created a Commander of the British Empire (CBE) in 1951, and raised to Dame Commander (DBE) in 1972. She died shortly after her 87th birthday in 1980 in the United Kingdom from natural causes and was cremated at the Golders Green Crematorium." -info from wikipedia.org