If you ever wondered what Buses were seen in ON THE BUSES then thanks to Richard Calvert you can now see a list by clicking on the file below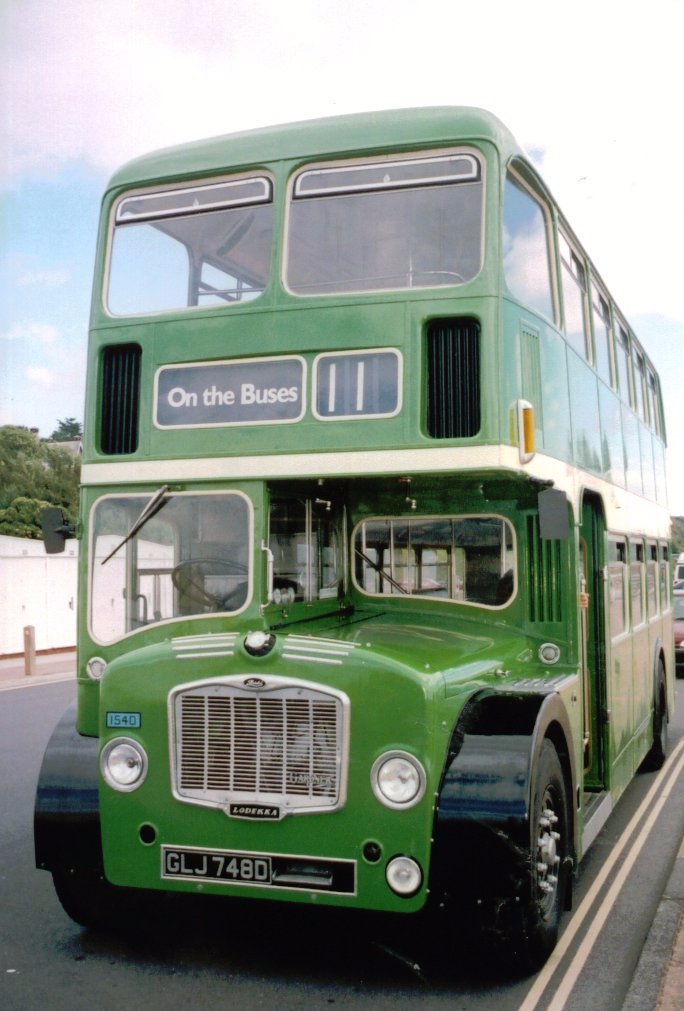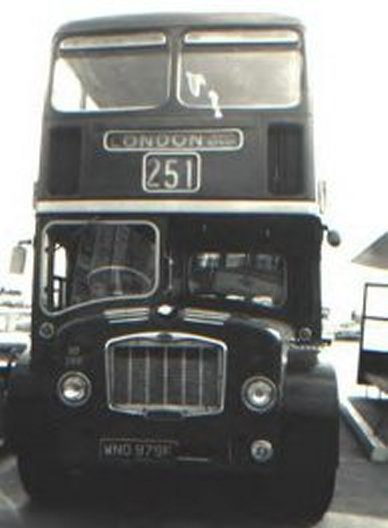 I remember travelling on vehicles used in the series during the run. For example, AEV 811F (fleet number 2917) was a real favorite, and frequent runner on the 251. One week AEV was missing for two days, it was being used for filming "ON THE BUSES".

The other regular was AVF 399F (fleet number 2930) AVW is the bus that features in the infamous "Radio Control" episode.

In Inspectors Pet we see WWC 743 (fleet number 2913)
In Vacancy for Inspector WWC 741F (fleet number 2911) can be seen
In Lost Proprty the bus is AEV 811F and AVW 399F.

All ENOC buses also carried home identification plates above the fleet number plate on the front raditor cowl. Look carefully at the episodes and you will see BD (Brentwood depot) WG (Wood Green) BN (Basildon) or SD for (Southend)
Thanks to David Shepard & Paul Harrison
I will never forget the day I told my parents I had bought a double-decker bus. I chose to tell my father first, while we were driving somewhere together. I enlisted his support to tell my mother because I didn't have the nerve, and when asked what sort of bus it was, I remember saying "Its identical to the one Reg Varney used to drive in ON THE BUSES.
For me ON THE BUSES was about buses, and I was intensely disappointed if an episode went by without any shots of one of Luxton and District handsome green double-deckers. The reason I was transfixed every week was simple- I travelled on those same buses to school almost every day. For most young boys, the dream of becoming an airline pilot or train driver was the norm. But I was weir- I wanted to drive a bus, just like Stan, and despite the fact I chose a career in Public Relations, I did fulfill my dream, one day in 1968.
Eastern and National.
It is a well known fact that On The Buses was filmed at London Wood Green, depot of the Eastern National Omnibus Company. From this depot, every day, the 251 service to Southend would operate, via the town of Rayleigh and right past my door.
These buses were Bristol FLF-type Lodekkas fitted with 70-seat bodies built by Eastern Coachworks of Lowestoft. Those used in OTB were delivered to ENOC in 1967/68 and fitted with semi-automatic transmission and Gardner 6LX 10,225cc diesel engine. The Lodekka revolutionized bus design in the late 1950's by offering center aisles upstairs and down, but with an overall height of just 13ft 6ins, hence the name Lodekka. Many automatics were produced between 1954 and 1968, the ultimate being the semi-auto FLF, or flat floor, long wheel base Front entrance version.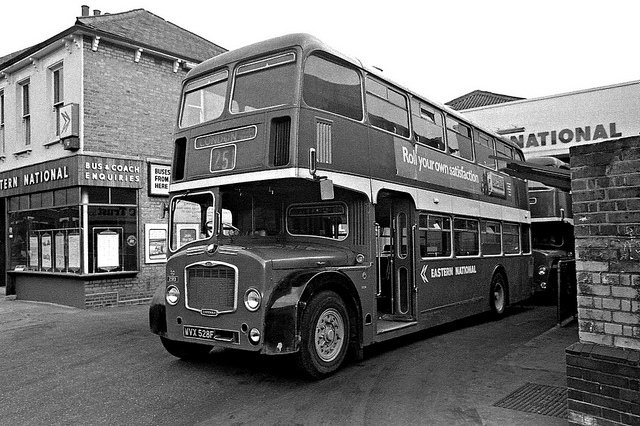 The real Wood Green
The depot used in the series was Eastern National's Wood Green depot, which fronted on to Lordship Lane - in many of the scenes showing buses entering the depot from the front, other landmarks can be seen, including the entrance to Wood Green underground station (just about visible in "FirstAid"), as well as the Eastern National enquiry office, which used to be sited
alongside the depot (seen clearly in "The Kids' Outing").

In early episodes, buses are sometimes shown entering the depot from what appear to be smaller roads at the rear (notably the scene with Arthur'shandlebars trailing behind the bus!).

Having closed when its main route, the 251 to Southend, was cut back to Walthamstow, the depot and all adjoining houses have been demolished without trace, and the whole site is now occupied by "Do it All" and a car hire firm. The church alongside it, with its distinctive arch patterned wall, was still to be seen on my last visit there some years ago.

UPDATE The site is now home to Mecca Bingo I can't remember the branch of Do-it-All and car hire firm mentioned from when I moved there in around 2001. I do seem to recall the church mentioned having been deconsecrated (or at least sold) and being used for the storage or sale of furniture. Thanks to Mark Shergold for the information