On the Sunday ON THE BUSES fans with Gold tickets joined the Routemaster bus again (owned by Sullivan Buses) for a Elstree Film and TV Heritage tour..
On the bus tour we visited many film and TV locations used locally during the last 99 YEARS of output by film and TV studios (including more ON THE BUSES film locations).The studios in the region created some classic and iconic programmes seen on the small and big screen. It was also a great social event where ON THE BUSES fans got to meet some of the local residence on board with us, who were also enjoying the tour.

Well done to Paul Welsh, Bob Redman, Dean and Steve at Sullivan Buses and all those who helped make this a good day out for all.

If you want to know more about Elstree Screen Heritage then click the link at the end of this page.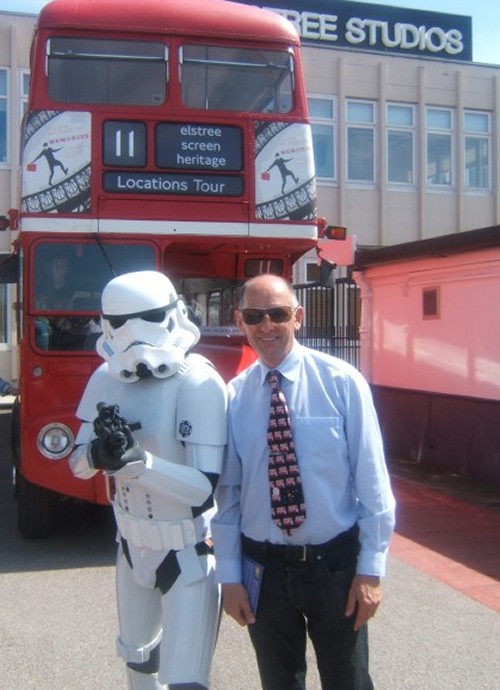 This is me (Steve Luxton) with the Bus Inspector in the newly issued uniform,
so you better have a ticket for travelling onboard. DING DING!
R2D2 asking if he can get a half price ticket
Elstree Studios is also home to the TV show 'BIG BROTHER'.
Here we see a view of the BIG BROTHER set.
CANONS HOUSE used as a location for many film and tv shows, including Hammer Thrillers like 'THE DEVIL RIDES OUT' & THE SANTANIC RIGHTS OF DRACULA plus TV shows such as THE SAINT, THE AVENGERS, RANDELL AND HOPKIRK.
Here we see one of the actual vehicles used on the cult classic TV series '
THE PRISONER' starring Patrick McGhoan as 'Number 6'
THe vehicle is parked outside the 'Mop and Broom; where we stopped for our buffet lunch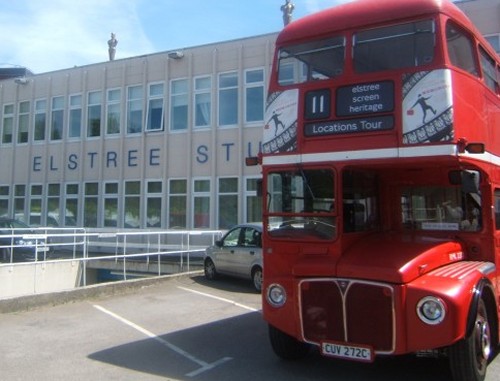 Our tour bus parked up in front of ELSTREE STUDIOS,
Nice to see the number 11 bus back at the studios where the 3 ON THE BUSES movies were made.
One of the highlights off the day was that on the return from a walking tour at ELSTREE STUDIOS we were greeted by some of the characters from the 'STAR WARS' movies
One of the ''Elstree and Borehamwood' TV and Film studios.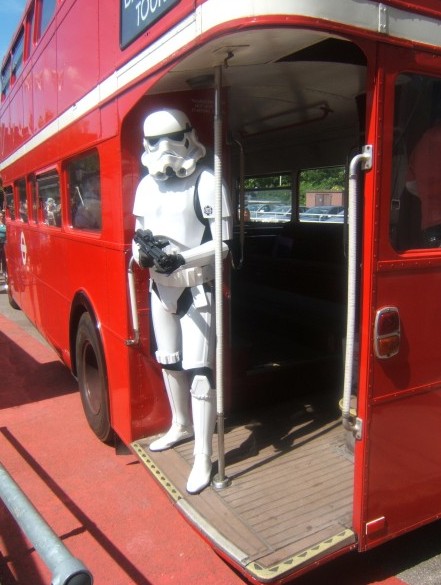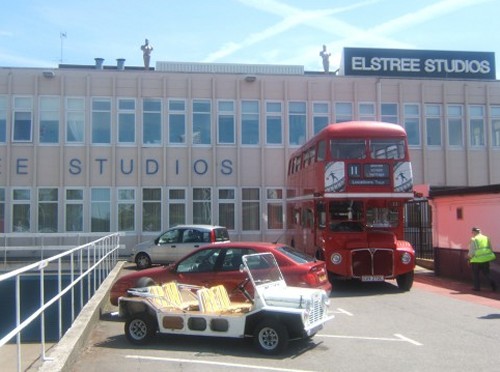 With the DVD release of The Elstree Story just around the corner, we invited the guys over at Elstree to give you a brief introduction to what can be expected.
Opened in 1927 as "British National Pictures", 25 years later this famous studio was operating as ABPC (Associated British Picture Corporation).
By the early 1950's the studio had been home to many silent films as well as
Hitchcock
's
Blackmail
(the first British "talkie") and lavish musicals starring
Richard Tauber
. It had recently completed
The Hasty Heart
with
Richard Todd
and future American President
Ronald Reagan
. Conceived by
Gilbert Gunn
and introduced by
Richard Todd
(soon to star in
The Dam Busters
),
The Elstree Story
was planned as a tribute to the first 25 years of the studio.
The story of Elstree goes back to the silent era, a magnificent legacy. Outside of Hollywood, no town in the world has boasted as many film studios or as great a list of productions as Elstree and Borehamwood. It would be a tragedy for that to be forgotten, to be passed over by history